The messenger for organizations
Secure and privacy-compliant
Trusted by millions
Built for business
Free trial
Contact sales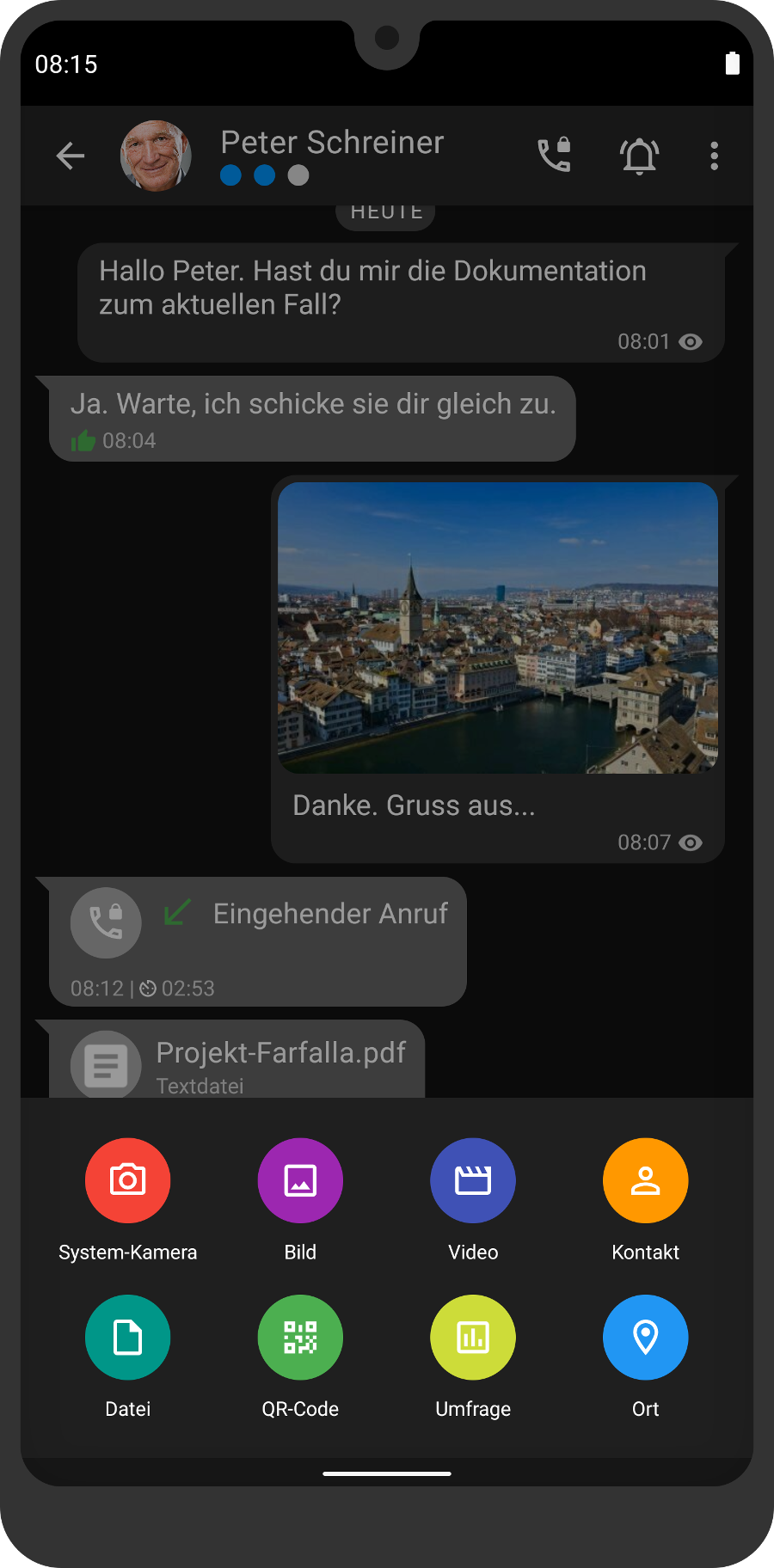 App features
Send text and voice messages
Share images, videos, locations and files of any kind
Group chats of up to 100 members
Web client to use Threema Work from the Desktop
Handy poll feature to create polls and schedule appointments
Off-hours policy for a healthy work–life balance

New

Threema Broadcast for efficient top-down communication using feeds, distribution lists, bots, and central groups
Threema Gateway for integration into your own software
Available for Android and iOS. Optimized for tablets.


Feature overview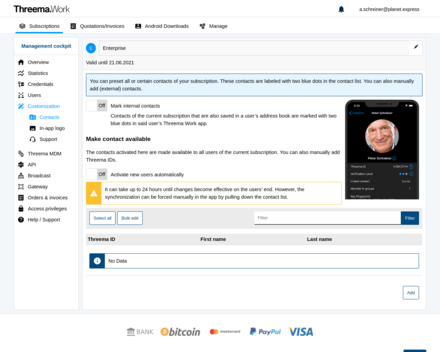 Management cockpit
Thanks to the innovative management cockpit, the administration of subscriptions and the management of users is a breeze. Some of the most important features are:
Manage users' contact list
Remotely adjust app settings
Set in-app logo
Revoke access to app and chats
Consult statistics
Manage user credentials
More about the management cockpit
Rollout and app confguration
Threema Work can be easily distributed, either with or without an MDM system.
Rollout and app confguration via MDM software: Threema Work is suited for distribution via MDM system. Since it's based on well-established standards, Threema Work supports all common MDM systems.
App configuration without a regular MDM system: If you don't use an MDM system for the app's deployment, Threema MDM is a convenient way of controlling the app's settings in the management cockpit.
More about app configuration
Success Stories
Threema Work is used in a variety of ways by countless satisfied customers across all industries. Here are some examples showcasing the versatility and flexibility of the Threema Work ecosystem and how it can contribute to your success.
Awards and achievements
Threema was awarded several times for its security, metadata restraint, and usability. These are just a few of the past achievements.
Top ratings and reviews
In the app stores, Threema gets excellent reviews and ratings. In the Google Play Store, it scores 4.5/5 stars, based on >45,000 votes.
Android app of the year
In 2015, Google Play rewarded Threema by placing it on the prestigious roster of best Android apps.
Best-selling iOS app
Two years in a row, in 2014 and 2015, Threema was the best-selling iOS app in Germany.
Winner of several tests, earning perfects scores
In numerous messenger comparisons, Threema came out on top. Many blogs and journals praise Threema's security, privacy protection, and usability.