Threema Education
Privacy-compliant instant messaging for educational institutions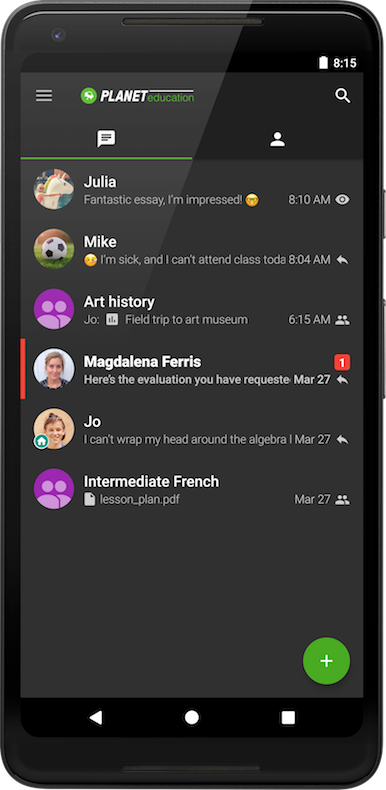 Special offer
Threema supports educational institutions in their endeavor to increase privacy protection. Eligible organizations benefit from preferential terms on Threema Work.
Currency:
Threema Work Education
60% OFF
compared to Threema Work Enterprise
1.90 CHF
0.75
per user, per month
Threema reserves the right to review an organization's eligibility at any time; if the eligibility criteria are not met, the discount will be withdrawn.
General information
Threema Work Education is a
Threema Work
price plan reserved for educational organizations.
Benefits
Compared to the Threema consumer app, Threema Work offers many additional features, especially in terms of administration and user management.
Platform independence
Threema Work licenses are platform-independent. When purchasing licenses, there's no need to consider which operating systems the students might use.
Security and privacy
Threema Work provides the
highest level
of security and data privacy and also
complies
with Swiss and EU data protection laws.
Additional informationen: Documentation Threema Work
Price-plan comparison
Enterprise
Education
Trial
General

Unlimited messages

✔
✔
✔

Free updates for all platforms

✔
✔
✔

Guaranteed availability (SLA)

99.9%
Standard
Standard
Management cockpit

Transferable credentials

Withdraw and hand over licenses

✔
✔
✔

Overview of active users

Get a complete list of all active licenses and users

✔
✔
✔

Access privileges

Add administrators and define access privileges

✔
✔
✔

Custom support form

Integrate your own form for first-level support into the app

✔
✔
✔

Show data evaluation of your subscription

✔
✔
✔

Contact-list management

Make contacts available and mark internal contacts

✔
✔
✔

Revocation of IDs

Revoke IDs and prevent access to future chats

✔
✔
✔

Detachment of IDs

Remove IDs from list of active users

✔
✔
✔

In-app logo

Display a custom logo in the app

✔
✔
✔

Control app settings in the management cockpit

✔
✔
✔

API

Manage subscription and users via API

✔
–
✔

Threema Gateway

100 credits
–
–
Request now
Start trial